Ann K. Jay, MD
Ann K. Jay, MD, is a neuroradiologist at MedStar Georgetown University Hospital. In addition, she is an Associate Professor with dual appointments in the Departments of Radiology and Otolaryngology. Her medical degree is from the University of Virginia in Charlottesville. She completed an internship in Internal Medicine at MedStar Washington Hospital Center and a residency in Diagnostic Radiology at MedStar Georgetown University Hospital. She then completed a two-year Neuroradiology fellowship at the University of Pennsylvania in Philadelphia, where she was a faculty member before returning to MGUH in 2009. At MedStar Georgetown, Dr. Jay serves as the director for Head and Neck Imaging, and she is the Program Director for the Diagnostic Radiology Residency program and Associate Program Director for the Integrated Interventional Radiology Residency program.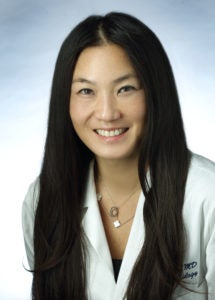 She recently completed her term commitment for the MedStar system Graduate Education Committee.  Dr. Jay is a passionate about teaching both radiology and otolaryngology residents and has received awards recognizing her commitment to teaching residents, including the Teacher of the Year award.
For Georgetown University School of Medicine, she serves as the Medical School Faculty Advisor for the Asian Pacific American Medical Student Association (APMASA) and annually interviews applicants to the medical school. Dr. Jay is one of five lead coaches for the inaugural Bias Reduction and Improvement Coaches (BRIC) pilot program started by the Office of Diversity and Inclusion. Dr. Jay also mentors medical students as a CURA fellow and through the first-generation program at GUSOM. She is also a member of the Diversity and Inclusion Subcommittee from the Office of Faculty Development. Dr. Jay is also co-director of the pre-clinical longitudinal Diagnostic Reasoning and Testing course. Dr. Jay has previously served as the Faculty Advisor for the Radiology Interest Group and the Neuroradiology clerkship director for the medical school.
Dr. Jay clinical and research interests are in the radiographic manifestations of otolaryngology diseases, specifically, temporal bone and paranasal sinus diseases, and head and neck cancer. She specializes in the head and neck biopsies, and is one of the few radiologists in the Washington, DC area that performs percutaneous biopsies of lesions in deep neck spaces. Dr. Jay is an integral part of the multi-disciplinary Head and Neck Cancer and Skull Base Disease Teams at MedStar Georgetown.
Dr. Jay completed the MedStar Teaching Scholar's program, graduating with the first class to complete an extended two-year program. She has received certifications in two AAMC programs: Medical Education Research Certificate (MERC) program and Leadership Education and Development (LEAD) Certificate program. Dr. Jay is also a part of the inaugural MedStar Teaching Academy class as a principal member of the Education leadership cohort.
Dr. Jay is committed to improving resident and medical student education at GUSOM, across the MedStar enterprise, and nationally by promoting wellness and diversity and inclusion.