Peggy Slota, DNP, RN, FAAN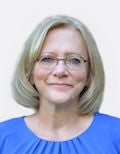 Dr. Slota is a Professor in the School of Nursing and Director of DNP Graduate Studies, serving as program director for the post-master's Doctor of Nursing Practice Program and 4 tracks in the post-baccalaureate Doctor of Nursing Practice Program. In this role, Peggy leads education and development for nursing faculty mentors and provides oversight for nursing doctoral students' scholarly work. She was named a Distinguished Educator by the GUMC Teaching Academy for Health Sciences in 2021 and received the Georgetown University Provost Award for Innovation in Teaching in 2021, recognizing her research work and team.

Dr. Slota completed undergraduate and graduate education at the University of
Pittsburgh in advanced practice as a critical care clinical nurse specialist. Employment
experiences include critical care clinical nurse specialist, flight nurse, ECMO technician,
staff development educator, and administrative director of the critical care service
center. As an administrator, she was responsible for pediatric and neonatology critical
care operations, respiratory services, palliative care, flight team, and ECMO services.
She initiated a collaborative research program for bedside nurses, served as a
leadership development facilitator, initiated a cardiopulmonary nursing fellowship
program, and led development of an inpatient and outpatient palliative care program.
She served on the Board of Directors for the Center for Organ Recovery and Education,
Board of Directors for UPMC Center for Emergency Medicine and STAT MedEvac, and
was a member of the Nursing Advisory Council to Pennsylvania State Emergency
Medical Services and previous Chair of the PSNA Environmental Health Committee.

Peggy is involved in research and teaching related to pedagogy, inclusive mentoring,
visual intelligence, and mindfulness. She is active in environmental health concerns and
is currently a Board member and Science Advisory Committee Chair for Women for a
Healthy Environment, member of Climate Reality Leadership Corps, and a steering
committee member for the Concerned Health Professionals of PA with Physicians for
Social Responsibility. She has presented and published frequently, including many
peer-reviewed articles and 3 books. She was previously a member of a national
pediatrics Steering Committee for the American Association of Critical Care Nurses, an
Editorial Board Member and first Pediatric Critical Care Department Editor for Critical
Care Nurse, and Editor of all three editions of the Core Curriculum for Pediatric Critical
Care Nursing. She has been honored by Fellowship in the American Academy of
Nursing, Fellowship in the AACN Leadership for Academic Nursing Program, University
of Pittsburgh Cameos of Caring Nurse Educator Award, UPMC Beckwith Fellowship,
Pennsylvania Nightingale Award Finalist in Nursing Research, and Nurse of the Year at
Children's Hospital in Pittsburgh.